Albuquerque Failure to Diagnose Lawyer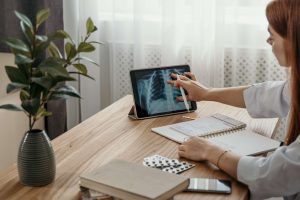 The failure to diagnose an illness or a delayed diagnosis is a form of medical malpractice that can result in severe repercussions and may cause physical disabilities, or even death. If you are a victim of a physician's failure to diagnose, contact the Branch Law Firm. For more information, call (505) 243-3500, and schedule a free consultation with one of our experienced Albuquerque failure to diagnose attorneys.
Why Choose Our Firm
With over 50 years of experience advocating for injury victims, our Albuquerque personal injury lawyers know what it takes to succeed in your medical malpractice case.
We are highly skilled in negotiating, and will fight for a fair settlement in your claim. We are also prepared to take the matter to trial, if necessary. Regardless of the medical professionals or insurance company involved, we advocate fiercely on your behalf.
We have recovered millions of dollars in compensation on behalf of our clients through medical malpractice claims.
Why You Need a Lawyer
It is very important to consult with a medical malpractice attorney if you feel there has been an incidence of negligence or malpractice involving a physician's failure to diagnose your illness or injury. When it comes to dealing with medical malpractice, keep in mind that hospitals, doctors, and many healthcare personnel are trained in the best way to solve these issues for their benefit. While this is unfortunate, you need someone in your corner fighting for your rights and ensuring you receive the compensation you are entitled to.
By hiring one of our injury attorneys, you will have someone who is investigating your case, handling legal issues as they come up, and advocating for you every step of the way.
What is a Failure to Diagnose?
When a doctor does not diagnose a patient's medical condition in a timely manner, it is referred to as a failure to diagnose. It is a type of medical malpractice that involves a healthcare professional missing particular symptoms that would lead to a specific and correct diagnosis of the patient's condition. As a result, the patient is subjected to further harm and injury due to the lack of appropriate treatment by their medical provider. A failure to diagnose in Albuquerque can take the form of:
A diagnostic error
Misinterpretation of medical tests
Failure to order appropriate tests
Not referring a patient to a specialist
Refusing to investigate or follow up on patient's symptoms
Not consulting with a patient about their condition
Failure to promptly treat severe medical conditions, such as a heart attack or aneurysm
How Do I Prove Liability in a Failure to Diagnose Case?
The following elements must be established in order to prove liability for a malpractice claim:
The physician had a professional relationship with the patient, and therefore, owed them a duty of care (typically easy to prove with the use of medical records).
The physician failed to meet the appropriate standard of care for their profession or was negligent in some aspect of the patient's treatment (failure to diagnose). A few examples, include:
Failure to ask you certain questions;
Failure to send a blood test to the proper lab;
Gave a fake name for your illness; and/or
Any other conduct which a similar doctor under similar circumstances would never have done.
The physician's negligence resulted in an injury to the patient; and
The resulting injury caused measurable damages to the patient, such as loss of income, physical pain, emotional distress and suffering, and/or disability.
In order to succeed in a failure to diagnose lawsuit, you will need a significant amount of evidence. For instance, medical records, the responsible physician's notes, notes from any other doctors if a second opinion was pursued, witness statements, copies of correspondence (e.g. emails/voicemails), and photographic or video documentation if available.
These cases can become even more complicated if multiple medical professionals, hospitals, or parties are liable. For example, you may also wish to sue the hospital where the medical malpractice occurred, as well as any local, state, or federal agencies responsible for the hospital's operations.
Contact a Failure to Diagnose Lawyer at Branch Law Firm
If you or a loved one has been harmed by a doctor's failure to diagnose a serious condition in Albuquerque, speak to a highly experienced medical malpractice lawyer today. We will help you gather sufficient evidence to support your claim for compensation. Fill out our online contact form or call (505) 243-3500.