Albuquerque Delivery Truck Accident Lawyer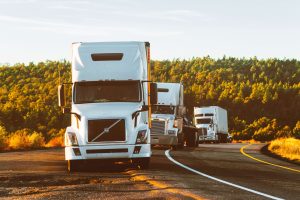 Commercial trucks are a common sight on the roads and highways in New Mexico. The massive size and weight of commercial trucks make them difficult to maneuver or stop when traveling at high speeds. When they are not driven in a careful manner, it can lead to a devastating accident. If you were injured in an accident involving a commercial truck, you should explore your potential legal claims. At the Branch Law Firm, our Albuquerque delivery truck accident lawyers can zealously pursue any damages that you may be owed to help you repair the harm caused by an accident.
Due to the weight, power, and size of delivery trucks, they can cause serious injuries to crash victims. If you or a loved one was injured in a crash with a delivery truck in Albuquerque, contact the Branch Law Firm today. For a free consultation, fill out our contact form online or call (505) 243-3500.
Why Choose Our Albuquerque Delivery Truck Accident Attorney?
We take pride in establishing and maintaining a close working relationship with our clients so that we can achieve their goals.
We aggressively pursue the maximum amount of compensation allowed under the law, and will not back down against insurance companies.
We have advocated for injured victims and their families for over 50 years, and have secured millions of dollars in settlements and verdicts. Our experienced lawyers strive to produce the best outcome for you and your loved ones, while holding the negligent party accountable for their actions.
Why Hire an Albuquerque Delivery Truck Accident Attorney?
Pursuing an accident claim against a trucking company can be intimidating. Trucking companies and their insurance companies have powerful teams of attorneys representing their best interests. If you attempt to fight them alone, it can result in a lower settlement that is not enough to cover your losses fully.
Additionally, accident cases involving a large truck can quickly become complicated. To be successful, they require knowledge of both the legal process and various state and federal laws and regulations that commercial vehicles are subject to. For example, commercial driver's license, driver training, and vehicle maintenance requirements, as well as hours of service regulations.
An experienced lawyer will also have the resources to investigate and determine which parties are liable, such as the truck driver, the trucking company, the vehicle's manufacturer, or government entities. Some trucking companies may quickly destroy evidence of liability that you need for a chance at a fair settlement. Contacting an experienced delivery truck accident lawyer in Albuquerque as soon as possible so they can investigate and preserve critical evidence will be crucial to your claim.
What Does a Delivery Truck Accident Attorney Do?
An Albuquerque delivery truck accident lawyer will help you build a successful case and handle every aspect of the claims process. That includes:
Gathering evidence from the crash scene, such as photographs, videos, skid mark measurements, positions of the vehicles, an inspection of the truck's brake pads and other vehicle components, police reports, video surveillance from traffic cams or businesses, eyewitness statements, and more.
Ensuring that you are evaluated by a trusted medical professional who can assess the full extent of your injuries.
Obtaining all records related to the truck driver and trucking company, the driver's logbook, truck's black box, maintenance logs of the truck, driver's training history, results from alcohol or drug tests, etc. to determine liability for the crash.
Negotiating with every party involved to reach a settlement to ensure all your accident-related expenses are covered.
Common Causes of Trucking Accidents
Commercial truck drivers are generally compensated by the number of miles that they drive. Therefore, some truck drivers drive at excessive speeds and drive for many consecutive hours to maximize their earnings. Frequently, truck drivers who drive for an extended period become fatigued and fall asleep at the wheel or suffer a delay in reaction time due to drowsy driving, which can lead to collisions. Other truck accidents arise out of a driver's failure to check his or her blind spots prior to changing lanes. Unlike standard vehicles, commercial trucks have many blind spots, some of which run the length of the trailer, making it difficult to ensure that the path is clear to change lanes.
To help prevent truck accidents, the Federal Motor Carrier Safety Administration has set forth regulations regarding the safe operation of commercial trucks. For example, there are limitations regarding the number of hours that a person can drive a truck per day and per week, qualifications that drivers must meet to operate trucks, and requirements regarding pre-trip and post-trip inspections and truck maintenance. Truck drivers and trucking companies are required to comply with the FMCSA regulations. An Albuquerque truck accident attorney in New Mexico can investigate a collision for evidence of an underlying violation.
Types of Compensation Available
If you are a victim of a truck accident, you have the right to pursue compensation from the liable parties for:
Medical Bills: Current and future medical care and any other related expenses (e.g., hospitalizations, surgeries, prescription medications, rehabilitation, in-home care, etc.).
Lost Wages: Current and future lost income while you recover.
Pain and Suffering: Physical pain and suffering, emotional distress, loss of enjoyment of life, etc.
Diminished Earning Capacity: If your injuries have permanently impacted your ability to work or forced you to take a different type of job.
Property Damage: Repair or replacement of your vehicle and any other personal belongings damaged in the crash.
Punitive Damages: This type of compensation is only awarded in cases where the at-fault party exhibited extreme carelessness or deplorable behavior.
New Mexico follows a pure comparative negligence system that reduces your compensation based on your percentage of fault. For example, if you are awarded $100,000 and found 30 percent responsible for your truck accident, you will receive only 70 percent of your award or $70,000.
Pursuing Damages Following a Delivery Truck Accident
Regardless of the specific actions that led to a truck accident, the root cause of most collisions is negligence. Thus, most lawsuits arising out of truck accidents set forth a negligence claim. Under New Mexico law, a plaintiff alleging negligence must establish a duty owed by the defendant and a breach of the duty. The duty owed is generally based on the reasonable person standard, which is the care that an ordinary, reasonable person would use under similar circumstances. Once a breach is established, the plaintiff must show that the breach proximately caused his or her harm. In other words, the plaintiff must show that the breach produced his or her injuries and that the injuries would not have occurred without the breach.
In cases in which a defendant violated a statute or regulation that was enacted to protect people from harm, such as one of the FMCSA regulations, the plaintiff may be able to establish that the defendant was negligent as a matter of law, or negligent per se. To do so, the plaintiff and their New Mexico delivery truck accident attorney must show that the plaintiff is a member of the class that the regulation was enacted to protect, and that the plaintiff suffered the type of harm that the regulation was intended to prevent.
In many instances, a plaintiff injured in a semi truck crash will be able to pursue claims against both an individual truck driver and a trucking company. This usually requires showing that the driver was working for the trucking company at the time of the accident, which means that the company is indirectly liable for the driver's negligence. Sometimes a trucking company may be directly liable for its own negligence if it violated regulations or failed to properly train or supervise a driver.
Why You Need a Delivery Truck Accident Lawyer
Seeking professional counsel from a lawyer experienced in litigating delivery truck accident claims can make a huge difference in the amount of compensation you recover. You may have experienced considerable physical and emotional pain, in addition to large medical bills and costs for vehicle repairs. Having an Albuquerque delivery truck accident lawyer investigate your case, gather evidence, and handle negotiations with the insurance company will ensure you recover enough compensation to fully cover the extent of your current and future losses.
Who is Liable When a Delivery Truck Causes Injuries in Albuquerque?
In general, delivery truck drivers' employers are liable when an accident is caused by an employee – provided that the delivery truck driver's negligent behavior was unintentional and occurred while they were completing a task that was within the scope of the driver's employment.
Delivery companies often attempt to escape liability by claiming the driver was not acting "within the scope of employment" when the accident took place. Whether or not this defense will work, depends on a few factors that determine if a delivery truck driver was, in fact, acting within the scope of their employment or not. Those include:
The driver's intent
The time and place of the accident
The amount of freedom the driver had on determining when to perform their duties
Delivery companies may also argue that they are not liable because the driver is an independent contractor. Again, this defense will only be viable in certain cases, depending on the circumstances and how much control the driver has over their work schedule.
Common Causes of Delivery Truck Accidents
There is a wide variety of reasons as to why a delivery truck accident may occur. Some of the most common causes are:
Distracted or negligent driver (e.g. texting, eating, talking on the phone)
Failure to follow traffic laws (e.g. running stop signs or red lights)
A driver who is inexperienced (e.g. company failed to vet employee or provide proper training)
Faulty vehicular equipment (e.g. defective part, improper maintenance)
Reckless driving (e.g. speeding, unsafe lane changes, tailgating)
Poor weather conditions (e.g. low visibility due to rain or snow, icy or slick roads)
Poor road conditions (e.g. pot holes, uneven road surfaces, broken concrete)
Delivery truck accidents can lead to serious, life-threatening injuries, even if they were traveling at low speeds. Victims may suffer a traumatic brain injury, head trauma, neck or back injury, internal injuries, etc. All of which can require a lifetime of medical care.
Retain an Experienced Personal Injury Attorney
Trucking accidents frequently cause catastrophic injuries. If you or a loved one suffered harm due to a trucking accident, it is in your best interest to retain an attorney to assist you in seeking compensation from the parties at fault for your injuries. Serving victims throughout New Mexico, our Albuquerque personal injury attorneys at the Branch Law Firm possess the skills and resources needed to help you seek a successful outcome. We assist people in lawsuits arising out of truck accidents near cities such as Albuquerque, Las Cruces, Roswell, Clovis, Hobbs, Los Alamos, Rio Rancho, Alamogordo, Las Vegas, Santa Fe, Carlsbad, Taos, Farmington, and Los Lunas. You can reach us by calling (505) 243-3500 or using our online form to set up an initial consultation.