Albuquerque Motorcycle Accident Lawyer
Although riding a motorcycle is exhilarating, an Albuquerque motorcycle accident can cause severe injuries due to riders' lack of protection. Nearly 5,000 motorcyclists were killed in crashes throughout 2018. If you or a loved one has been injured in a motorcycle crash caused by the negligence of someone else, contact the Branch Law Firm. To schedule a free consultation of your injury claim with one of our Albuquerque personal injury attorneys, call (505) 243-3500 or contact us online today.
Why Choose Our Albuquerque Motorcycle Accident Attorney?
With more than 50 years of experience, you can trust our law firm to protect your rights and provide you with the legal representation you need.
Our experienced personal injury trial attorneys are able to fight your case in court if insurance companies and their adjusters will not settle for fair compensation.
At Branch Law Firm, our attorneys are committed to helping injured victims secure maximum compensation. Our personal injury attorneys want to help families rebuild their lives after a serious motorcycle accident, and will only charge legal fees if we win.
Why You Need a Motorcycle Accident Lawyer
Physical recovery from a serious motorcycle accident takes time and extensive medical care. Some injuries require long-term medical treatment and repeat surgeries. Accident compensation makes it possible for injury victims to obtain the medical care they need to heal. Insurance companies often refuse to pay maximum compensation for motorcycle accident injury cases, and adjusters have an incentive to delay, mislead, and wear down injury victims so that they will accept a smaller settlement than they deserve. This reduced settlement may not cover the medical bills you or a loved one require.
Our Albuquerque motorcycle accident lawyers have years of experience negotiating with insurance adjusters, and we know when a settlement offer is unfairly low. While you take the time to recover from your injuries, our motorcycle accident lawyers will handle working with the insurance company. We ensure you have the evidence you need to hold the negligent driver responsible for your motorcycle collision injuries, so that you will receive justice and be fully compensated for your motorcycle accident injury claim.
Common Causes and Injuries of Motorcycle Accidents in Albuquerque
The most common causes of Albuquerque motorcycle accidents are:
Lane splitting (motorcycle sharing a lane with a vehicle, illegal in New Mexico)
Speeding
Dangerous road conditions
Cars making left-hand turns, are responsible for almost half of all motorcycle accidents
Riding while under the influence of alcohol or drugs (27% of riders involved in 2017's fatal crashes were alcohol-impaired)
Blind lane changes
Inexperienced riders (29% of riders in 2017's fatal crashes did not have valid motorcycle licenses)
The injuries caused by motorcycle accidents can be catastrophic. Common injuries suffered due to an Albuquerque motorcycle accident include brain injuries, road rash, muscle damage, bone fractures, nerve damage, spinal cord injuries, and in the most severe cases, a loss of life.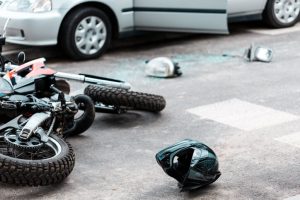 How is Fault Determined in a New Mexico Motorcycle Accident?
The state of New Mexico follows a pure comparative negligence system when it comes to determining fault in a motorcycle crash. This means that every individual involved in a motorcycle collision is held responsible for their role in the crash. The driver or motorcyclist responsible for the crash is liable for the damages and medical expenses incurred by the other injured parties. It's important to note that fault may be shared between motorists, and you may legally collect compensation proportionate to your fault in causing the crash. For example, if you're found to be 10% at fault for an Albuquerque motorcycle accident, you can collect 90% in damages from the other driver(s).
To determine fault, the following five elements will be considered:
Drivers owe each other a legal duty: When you get behind the wheel of a car or start your motorcycle, you are legally obligated to protect other motorists and use reasonable caution to avoid accidents. This duty extends to pedestrians, bicyclists, and other motorists.
The other driver breached their legal duty:  If another driver breaches their duty, for example by being on their phone while driving, there may be a presumption of fault.
The breach directly caused the accident: Even the most careful and safe drivers or motorcyclists may make an unintentional mistake that leads to a collision. However, if our legal team can prove that a specific breach of duty caused an an Albuquerque motorcycle crash, you may be entitled to damages.
You or a loved one were injured due solely to the accident: Once it's proven that the other motorist had a legal duty to you that they failed to uphold, it's necessary to prove that injuries were suffered in the crash. This can be challenging, as an insurance company or opposing lawyer may attempt to prove that your injuries existed prior to the collision. We review your medical records, account of the accident, and consult with medical experts to help you prove your case.
The extent of injury/damages: Did you suffer serious injuries in the crash, or was your motorcycle damaged beyond repair? We strive to ensure you receive the maximum compensation for your accident.
What Types of Compensation Can I Recover after a Motorcycle Accident?
Compensation after a motorcycle accident is meant to restore the victim, or make the person "whole" again after the crash. There are many types of economic damages and punitive damages that our legal team pursues to help with this, including:
Medical Expenses: current and future medical costs
Lost Wages: current and future lost income while recovering
Disability: Victims deserve compensation to accommodate any disability (such as paralysis) that they suffer as a result of a motorcycle accident.
Property Damage: A crash will often destroy a motorcycle.
Pain and Suffering: compensation for physical and mental pain, including emotional distress
Loss of Consortium: compensation for a spouse's loss of companionship and affection
Wrongful Death: Tragically, many motorcycle accident victims don't survive. Surviving family members can pursue a claim for compensation when another driver is at fault.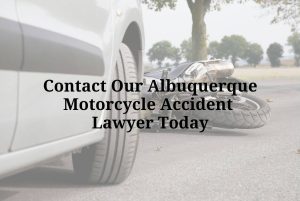 Speak to an Experienced Albuquerque Motorcycle Accident Lawyer
If you or someone you love has been harmed in a motorcycle accident, contact a personal injury attorney at Branch Law Firm. Our Albuquerque motorcycle accident attorneys will protect your rights and demand the maximum compensation that you deserve in your personal injury lawsuit. Call (505) 243-3500 to speak to a personal injury lawyer today or message us online to schedule a free consultation of your motorcycle accident claim.